Monday, November 30th, 2020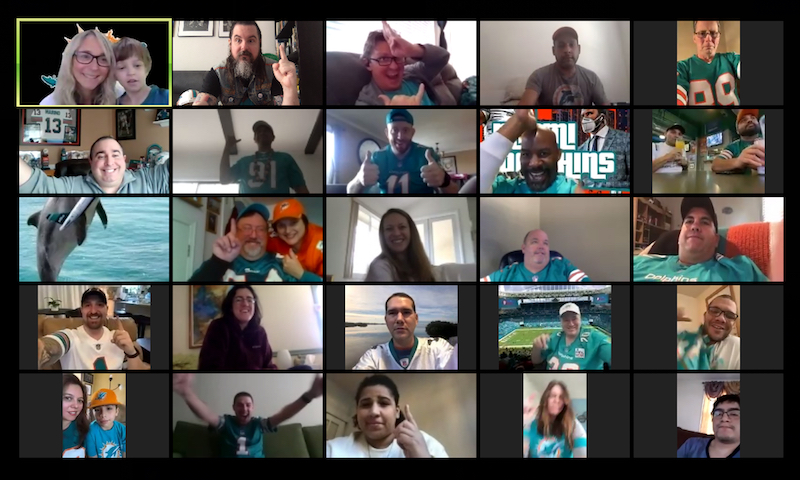 I just wanted to give everyone a quick update on our virtual #MetLifeTakeover event. I think yesterday went just about as well as we could have possibly planned. We had a ton of people watching the game live with us, the Dolphins won and we raised almost $3000 for the Miami Dolphins Foundation Food Relief Program!
Huge congratulations to everyone who won our raffles and social media giveaways. It was great to be able to do something that felt a little like #MetLifeTakeover week even if we didn't actually get to be together. We gave away three Don Shula memorial Yearbooks/ Dolfans NYC swag packs, a Mercury Morris signed photo, an actual seat back from the Dolphins stadium, ball signed by Dwight Stephenson, a Flo Knows shirt and of course the incredible Brian Flores signed game used helmet. I honestly am pretty upset I wasn't allowed to buy tickets.
On the football side of things it was great to see the Dolphins play a pretty mediocre game and still win. That's not something Dolphins fans are used to and a sign of a good team. I know the Jets are one of the worst teams in NFL history but even when we made huge mistakes at no point was I ever worried that we were going to lose. It's nice to have that feeling during a game, especially when I was having to help moderate the Zoom meeting as well. Let's do it again next week.
And finally check out this video RizeOptix put together for us from his last two years of filming #MetLifeTakeovers for us. As always shout out to Solo D for our Dolfans NYC anthem that we used for the video.  Phins up!