Wednesday, October 24th, 2018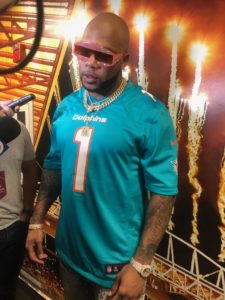 Backstage in a nondescript dressing room, past the players' locker rooms at the end of a winding, field-level corridor, Flo Rida scans the crowd from behind his diamond-encrusted, orange Gucci sunglasses and motions his two dancers to join him at each side for a post-concert interview.
Over the years, the Grammy-award-nominee has performed at countless sports venues, but there's no doubt that playing a medley of his biggest hits during Sunday's halftime show in front of his hometown fans, decked in an aqua No. 1 jersey bearing his name, is special.
Or as the "My House" rapper himself calls it, "epic."
"To be home in the 305, I anticipated coming out here for a very long time," he said. "I think this may be a pre-Super Bowl halftime performance for the Dolphins, you know what I'm saying? We have it down in the 305. It was so much fun."
Born and raised in neighboring Carol City, Fla. – located 15 miles outside of Miami – the rapper, singer and songwriter was discovered by 2 Live Crew's Fresh Kid Ice, who signed him as his hype man and later featured him as a guest on his 2004 album, "Freaky Chinese."
Just three years later, Flo Rida's breakout, chart-topping single, "Low" – the most-downloaded song of the decade – made him a household name. He's since become one of the best-selling artists in the world, topping one billion plays on Spotify, with dozens of infectious party anthems.
His international success and penchant for penning smash hits have allowed him to celebrate with the Super Bowl-champion Denver Broncos in 2016, as well as kick off the 2017 NFL season at Gillette Stadium, but if there was any doubt his football allegiance still lies with the Dolphins, the 39-year-old quickly puts that to rest.
The locally-born-and-raised musician lists off a handful of his childhood favorites with a wide grin – Dan Marino, Mark Duper and Mark Clayton – and has close ties to a Coral Gables High School graduate and University of Miami alumnus currently suiting up for the Dolphins.
"Frank Gore, that's my boy," the rapper said. "I said, 'What's up?' to him when we were out there on the field. It's always a pleasure to see hometown (players) out here, representing, as well."
Like all Dolphins fans, Flo Rida has enjoyed the team's early-season success, and hopes that the next time he returns to the big stage in the Sunshine State, his favorite team will be playing in Super Bowl LIV at Hard Rock Stadium.
"This is something that, being a fan of the Dolphins, we always anticipate and we want to happen, so I'm definitely enjoying (this season)," he said. "We pray that the Dolphins are in the Super Bowl."