Thursday, September 27th, 2018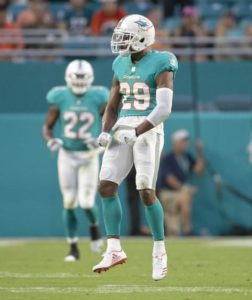 A native of Old Bridge Township, N.J., Dolphins defensive back Minkah Fitzpatrick expected to see around 30 close friends and family members in the lower-level seats at nearby MetLife Stadium.
The standout rookie didn't envision over 1,000 aqua-and-orange-decked fans cheering for him and his teammates from the upper deck, their raucous reception rendering the return to his home state even more special.
"It was awesome," Fitzpatrick said. "I saw a lot of people out there. At one point, they were chanting, 'Go Dolphins!' That was really cool hearing them, and that somebody at the stadium started that chant. It was a lot of fun."
Fellow first-year player Jerome Baker, in awe of the inescapable crowd noise, reached out to Renzo Sheppard, Dolphins Football Communications Manager, to find out why Miami had such an overwhelming presence on an opposing team's home turf.
"Even just pulling in, you could see the tailgating, you could see our fans were there, and I was just surprised by that," Baker said. "Being that far north and having our fans there, it's just a blessing. In the NFL, I really didn't expect our fans to travel that well … I asked Zo, he ended up telling me (about Dolfans NYC), and I just decided to say something."
Thank you @DolfansNYC for all the fans out here today!! We felt it! #MetLifeTakeover Thanks so much!

— Jerome Baker Jr. (@Lastname_Baker) September 16, 2018
"We feed off of their energy just like they feed off of ours," Baker continued. "When we – the defense – were up there doing our thing, our fans were yelling, too. I wouldn't say it felt like a home game, but you could definitely feel our fans."
For two of the Dolphins' top offensive stars, the ringing celebrations following Miami's scoring drives didn't go unrecognized.
"Yeah, yeah, yeah!" exclaimed wide receiver Albert Wilson when asked if he heard the cheers after his second-quarter touchdown catch gave Miami a 14-0 lead. "After the game, I did a message to everybody who came out. It was great to get so many Dolphins fans on the road. When you get there and you quiet the crowd, and you have your fans going loud, it definitely gives us a spark."
Running back Kenyan Drake, who found the end zone on a six-yard run in the first quarter, echoed a similar sentiment.
"It was good to score one in front of the many fans we had up there," he said. "Dolphins fans travel anywhere and everywhere, especially for a divisional-rivalry game such as the Jets. I feel like they make it a key thing to go up there and really try to pack out MetLife Stadium. It was cool just feeling that vibe when I was up there."
Drake, much like his other teammates, reiterated his appreciation for the support, and hopes to capitalize on the positive momentum as the Dolphins head to Foxboro for a pivotal matchup against the Patriots on Sunday.
What's his message to Dolfans NYC?
"Let's keep it going! We're 3-0, baby. Just enjoy the ride."