Monday, September 24th, 2018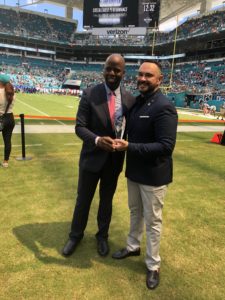 On Sunday, in a pregame ceremony on the Hard Rock Stadium field, the Miami Dolphins named SAVE Executive Director Tony Lima as the recipient of the NFL Hispanic Heritage Leadership Award.
Surrounded by members of SAVE – South Florida's leading organization dedicated to protecting people of the LGBTQ community against discrimination – and Dolphins Senior V.P. of Communications and Community Affairs Jason Jenkins, Lima proudly help up a crystal glass trophy and aqua No. 18 jersey bearing his last name on the back.
"As the longest-serving LGBT rights organization in the state, for SAVE, this is a huge honor," Lima said. "We've been working so hard for the last 25 years to bring full equality to Floridians. With the Football Unites program, the Dolphins are not only celebrating and (being) inclusive of the LGBT community, but … are helping other organizations with incredible diversity, work on social justice as a whole."
With a bigger platform to shine a light on longstanding issues of inequality and discrimination, Lima is hopeful the recognition will allow SAVE to reach an even wider audience.
"What's most exciting for me, is that the Dolphins did this in front of 70,000 people who may not know that SAVE is out there doing the work that we do," he said. "They may now have more of an open heart and an open mind to understand why it's important to be inclusive of the LBGT community."
During his five-year tenure with the organization, Lima, a Miami-born Cuban American, has focused on community outreach and advocating for policy change. Through the Prejudice Reduction Program, SAVE has spread its core mission of positive change through educational forums and business meetings.
Under Lima's leadership, SAVE has made its most significant strides toward achieving equal rights for persons of all sexual orientations and gender identities throughout the organization's 25-year history. In 2015, Lima championed SAVE in its successful federal suit against the state of Florida to legalize same-sex marriage, and in the year prior, lobbied for nondiscrimination protections for transgender individuals at the Miami-Dade County Commission.
SAVE has helped elect a record 75 pro-equality government leaders, as well as implemented a groundbreaking, nationally-recognized model aimed to reduce prejudice against the community.
"The model that we came up with is a deep-canvasing model, where in 12- to 15-minute conversations with a voter, it's been proven scientifically that we can change their hearts and minds," Lima said. "Just by having inclusive conversations, where people understand that they may have been discriminated (against) at some point, as well, and can see the connection between that and discriminating against the community. The great thing is that model is being used now across the country for not only LGBT rights, but women's rights and immigrant rights, on a bunch of different levels and issues."
SAVE is a grant recipient of the Dolphins Football Unites program, created by Owner Stephen Ross and players to help South Florida individuals and organizations maximize their impact and engagement. Through the launch of the program, the team is supporting SAVE's campaign to reduce prejudice and expand the list of supportive community members.
"In this day and age, in this political climate, it's not only about one community," Lima said. "It's about all the intersections that make up our community, whether that's being a person of color, being a woman or being an immigrant. We have to stand together, shoulder to shoulder, and help uplift each other's narratives."
To learn more and make a donation, visit save.lgbt or connect with SAVE on Facebook.