Wednesday, November 20th, 2019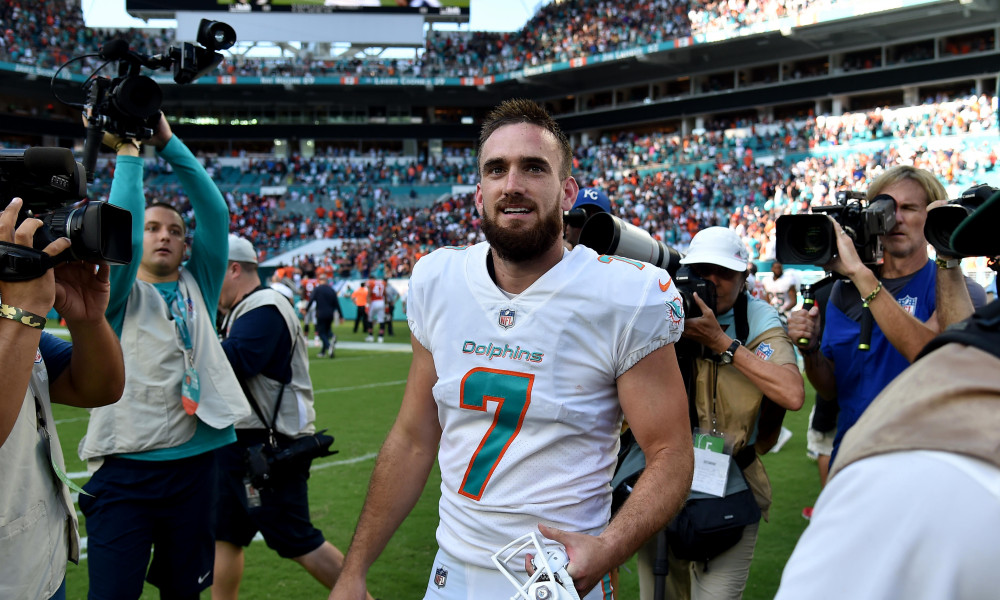 Moments after recovering his own onside kick against the Bills, Jason Sanders, typically reserved and even-keeled, emerged with the football from the pile, pumped his fist and sprinted ahead to high-fives and pats on the helmet from his Dolphins teammates.

"You want to bring emotion to the game," he said. "You want to use that as a momentum change in the game, as well, so if they see your kicker getting pumped, it might be a chain effect where we're all pumped now." 

Sanders' rare display of enthusiasm was certainly understandable. Entering Week 11, NFL teams were successful on just one of the previous 29 onside-kick attempts; the Dolphins had two previous recoveries negated by offside penalties earlier this season. 

Despite running the play countless times in practice, Sanders wasn't certain it would work in a game situation, considering the ball had to travel a precise distance, and bounce just right, for him to have a chance to seize it. But catching Buffalo off guard worked in his favor. 

"It's designed to be a surprise kick, so if you get the frontline to take a step backwards, then you're going to have a good step on it," he said. "But the ball still has to go 10 yards … say, if I kicked it 13, 14 yards, that might've been too far and I might not have been able to get it." 

Although Miami wasn't able to capitalize on its next possession, No. 7's clutch kick was the latest in a young career that's already distinguished by standout performances. 

Last season, he converted on 18-of-20 field goal attempts (90 percent), the eighth-best percentage in the league and fifth-highest in Dolphins history. In Week 6 against the Bears, he nailed a 47-yarder on the final play of overtime to cap a Dolphins comeback victory. 

After making three kicks longer than 45 yards in a win against the Colts on Nov. 10, Sanders earned his first AFC Special Teams Player of the Week award. 

"I've been looking for a game like this this season, where it's kind of, maybe a breakthrough to get things rolling, start getting on a little streak, maybe," Sanders told MiamiDolphins.com. "I'm coming off, I'd like to say, a good year, so I'm trying to keep everything possible, the same. I know it's worked and it helped me out [Week 10]." 

A 7th-round pick (229th overall) by Miami in 2018, the New Mexico alum seized the starting job after winning a training camp battle with fellow rookie Greg Joseph. Sanders learned early to block out all outside distractions and proved he wouldn't get overwhelmed by any situation. 

"If you focus on yourself and focus on one kick at a time, you're going to try to find good results," he said. "You can't worry about the competition or what's happening outside of the ball coming off your foot." 

A high-school soccer star, Sanders had his sights set on a career in the MLS, but decided to follow in the footsteps of his older brother, Andrew, the starting kicker on the football team. 

"My freshman teacher, who was also the (football) coach, liked how my brother was kicking, so he wanted me to go out there and try it," said Sanders, who became the full-time kicker and punter as a junior. "All I did was play soccer growing up, and I thought that was going to be my route." 

Sanders, in fact, expected to revert to soccer in college, but turned his full attention to the gridiron after earning a football scholarship offer from New Mexico, one of five schools to recruit him. 

The NFL may have seemed like a longshot early on, as Sanders didn't attempt a single field goal as a backup in his first season, and connected on just 3-of-7 attempts as a sophomore. 

"My freshman year, I was only hitting kickoffs and I wanted to hit field goals, so that next year, I was focusing on trying to be the field goal kicker," he said. "I think that kind of helped me, being in the present." 
The following season, Sanders was nearly flawless, making 12-of-13 field goals, including 6-of-6 from 40 yards or more. As a senior, he hit 10-of-15, but nailed two game-winners from over 50 yards.

Former Dolphins special teams coordinator Darren Rizzi saw potential in Sanders, who demonstrated his strong leg on long-distance field-goals, as well as booting the ball downfield on kickoffs; over his last two seasons at New Mexico, only 22 of his 132 kickoffs were returned.

"I think I had a good mindset going my whole four years of college," Sanders said. "I wasn't thinking ahead, I wasn't thinking about the future (in the NFL). I was focusing on what was happening now."

The second-year special-teamer hasn't had as many chances to impress in 2019; his 13 field goal attempts and 14 extra-point tries are tied for 26th and 29th in the league, respectively.
But Sanders stays ready, no matter if he's asked to split the uprights from 50 yards out, or give his team an extra possession with an onside kick.

"I'm just focusing on kicking a good ball," he said. "No matter (the situation), you have to do your job and accept the pressure when you're a kicker in the NFL."