Thursday, September 13th, 2018
When the Dolphins take the field in East Rutherford, N.J. on Sunday, players know the inter-division tilt won't feel like a typical road game.
Not with over 1,000 aqua-and-orange-clad fans spread across four sections at MetLife Stadium, whose boisterous chanting and unwavering celebrations have left a lasting impression.
"It's big-time," said Dolphins wide receiver Kenny Stills. "It's not too often that you go on the road and you have such a heavy presence in another stadium, so we always appreciate them.'"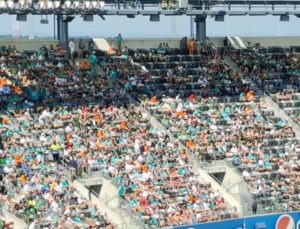 For wide receiver and kick returner Jakeem Grant, the warm reception from one of the most significant contingents of Miami fans he's witnessed at an away game has inspired him and his teammates.
"We feed off them," Grant said. "They basically give us that momentum, with them cheering if we make a big play. We're like, 'Man, we can continue to do this!' With the fans traveling with us and doing all those things, we greatly appreciate that."
Throughout the eight previous #MetLifeTakeover games – especially the six triumphs – the loudest cheers have come from Dolphins faithful in attendance, who've shouted after every first down and belted out the team fight song following each touchdown.
View this post on Instagram
"I remember in the past, we've seen some good support there," said linebacker Kiko Alonso. "It's definitely critical to have our fans come to those games."
Alonso won't be disappointed on Sunday afternoon, as Dolphins supporters' voices will echo through the stadium, rooting for him to come up with a game-changing interception and Stills to beat his defender for a crucial score.
The applause emanating from Sections 344 to 347 is not only audible on telecasts, but travels all the way down to the Dolphins sideline.
"We definitely hear it," Stills said. "It's nice to have our fans with us on the road … I always make sure to go over there and dap everybody up and tell them face to face, 'Thank you for being here.'"