2020 Draft Recap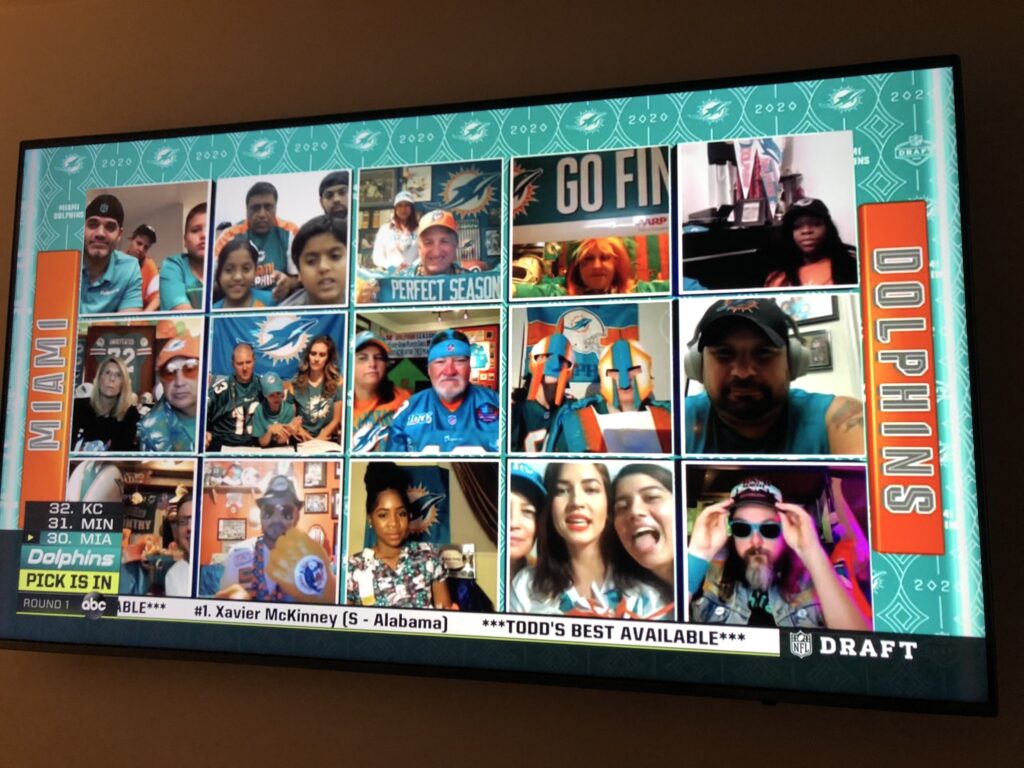 I love the NFL Draft. Dolfans NYC used to do group trips every year when the Draft was in NYC. I went to Dallas a couple of years ago and I was supposed to be in Vegas for the Draft before the coronavirus messed everything up. Even with the virus I still ended up on TV when Tua was picked! But with all that said, I am the last person who should be doing a Draft recap.
I don't watch a lot of college football, and even if I did I still could never be one of those Draft obsessed fans. I learned years ago that any time I get obsessed about a player they would end up on another team. Even this year I got really into the Tank for Tua thing and started watching Alabama games only to be crushed when he got injured. Ironically him getting hurt was the only way we were able to land him, but the point remains. I try not to pay any attention to the Draft, until it starts.
That being said, I might not be an expert on the Draft, but I do know a lot about the problems the Dolphins have and I think the Dolphins did a great job of addressing them. I had a few disappointments, but nothing I can complain about too much. For example I would love to have seen us keep trading picks back to pick up 2021 selections. But we have a lot of holes and already had nine picks next year so it's hard to complain. We did end up trading one of our 7th round picks for a 6th rounder next year which I was happy to see.
Before I give you my quick take on the picks I should mention that it's cool to see an obvious strategy from Grier as he picked a number players who either didn't live up to their potential or had injuries that caused them to fall. It's a risky strategy but you can see that the Dolphins are really focusing on 2021. They picked players that they could spend a year molding. I have a feeling our 2021 Draft picks are going to be much more polished day one starter types. The three year plan is really taking shape. Even the trade for running back Matt Breida is a perfect example. He's a player who did really well with limited touches on a one year contract. If he plays great you can resign him and if not you have a stop gap and can draft his replacement early next year. It was a perfect solution to not being able to get one of the top tier RBs early.
Okay, let's do this.
Pick #5: QB Tua Tagovailoa, Alabama – I have no interest in any more arguing about what QB the Dolphins should target. Tua has more upside than any other player in the draft and we didn't even have to give anything to move up. Let's just pray he works out and the Dolphins their answer at quarterback for a long, long time. What a moment.
Pick #18: OT Austin Jackson, USC – While I loved the Tunsil trade, giving up Minkah Fitzpatrick was hard to swallow, but I thought the Steelers were going to be a lot worse than they were. The 18th pick was a tough one with all the elite OTs gone and my personal pick Jerry Jeudy gone as well (OL is way more of a need but how fun would a Tua/Jeudy combo been?). It seems like a consensus that the Dolphins reached here with Jackson, but we got a very good player that had an off year after donating bone marrow to his sister. My hope is that by 2021 he will be much stronger and ready to protect Tua's strong side for years to come.
Pick #30: CB Noah Igbinoghene, Auburn – I don't know anything about Igbinoghene but people I trust seem to absolutely love him. He was a WR two years ago and was still a shutdown corner. He could improve so much with that one more year under his belt. And for those upset we picked a CB when we have Howard and Jones already, just remember how many injuries we have had in the secondary in the past and how often we are in nickel and dime defenses. Plus a dominant secondary makes up for a questionable pass rush.
Pick #39: OL Robert Hunt, Louisiana-Lafayette – I was saying on Twitter that if the Dolphins drafted nothing but linemen after Tua I would be happy and I am not sure that I was joking. This is how you build a football team. Hunt is a versatile lineman who can play tackle or guard and if he works out he could be protecting Tua's blind side for years, and if not that versatility gives us a great depth option like Jesse Davis.
Pick #56: DL Raekwon Davis, Alabama – I am very happy to see us drafting linemen on either side of the ball. We have some players I like up front but we were still garbage against the run and hopefully Davis will help with that. Plus being the second player on our team named after the rapper Raekwon is honestly incredible. Wu Tang forever!
Pick #70: S Brandon Jones, Texas – I was hoping we would get a safety earlier but please do yourself a favor and watch some Jones highlights. The man can tackle. Safety is my favorite position on the field and I just love seeing people get crushed by a safety who is running full speed up field. Nothing would make me happier than Jones making me forget that Fitzpatrick was ever on the team. (BTW Reshad Jones is still a free agent and if we resigned him that would give us 3 Jonese in the secondary.)
Pick #111: G Solomon Kindley, Georgia – Keep drafting linemen! Kindley is an absolute beast and the Dolphins must love him because they gave up two picks to get him. He's apparently a fantastic pass blocker only giving up four sacks in over 900 attempts. He's also very fast and very mean and will hopefully become a fixture at left guard for the Dolphins.
Pick #154: DL Jason Strowbridge, North Carolina – Strobridge is an athletic run stopping lineman who can play inside or out. He's also from South Florida which is always cool. He should perfectly compliment the man who was chosen 10 picks after him. He also blocked four kicks in college which could be a great added bonus.
Pick #164: EDGE Curtis Weaver, Boise State – A lot of people are talking about Weaver being the steal of the draft. PFF had him as the 26th player on their draft board and we got him 138 picks later. An undersized pass rusher who can come in on passing downs to spell a player like Strowbridge and just line up and go after the QB. We got one of the best pass rushers in college football in the 5th round (although we did give up a 7th to move up for him) and hopefully he will turn out a lot better than some of our recent DE selections.
Pick #185: LS Blake Ferguson, LSU –  This was the only pick I had a problem. I loved John Denney so much and I was so disappointed to see him go, but he was replaced by a hilarious dude named Taybor who is a big gamer and Tweets constantly. He was so much fun to have on the team, especially because I don't remember him making any mistakes as a long snapper and I presume on a league minimum salary. Drafting someone, even with a 6th round pick, means you are spending more money and way more resources on a position that can be filled cheaply. I was hoping Taybor would have a chance to compete but I literally got a text in the middle of writing this article telling me he had been cut. Farewell young prince!
Pick #246: WR Malcolm Perry, Navy – If you want to enjoy some highlights watch Perry's. He played QB, WR and RB in college and does nothing but take footballs to the house. The guy is a scoring machine. 7th round picks don't usually work out so you might as well draft a guy with a ton of upside. If his game could translate to the NFL he could be so much fun to have as a slot receiver or a third down back…. and just think of the trick plays!
Tags: 2020 NFL Draft, dolfans nyc, miami dolphins, nfl draft, tua, Tua Tagovailoa