Tua Tagovailoa: Joining Dolphins Is "Dream Come True"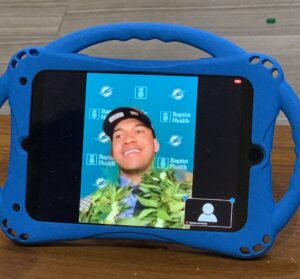 When the smokescreen finally cleared on Thursday night, after months of speculation and endless rumors, the Dolphins landed their quarterback of the future.
Flanked by his parents and siblings inside his Alabaster, Ala. home, Tua Tagovailoa slid a black Miami Dolphins cap on his head and a lei around his neck, after officially joining the Dolphins as the No. 5 pick in the NFL Draft.
For Tagovailoa, hearing his name called by the commissioner was "a dream come true" for him and his family. Now that he's a member of the Dolphins, the next step is building camaraderie with his new teammates and soaking in knowledge from the veterans.
"The most important thing is probably getting everyone's phone numbers on the team and creating relationships, maybe starting with the quarterbacks," he said.
"(Ryan Fitzpatrick) has so much knowledge of the game. I think it's best that I pick (his brain) … question him and learn from him."
Tagovailoa's star talent was never in question. In nine games last season, Tagovailoa, the most efficient quarterback in college football history, threw for 2,840 yards, 33 touchdowns and three interceptions, while completing 71.4 percent of his passes. As a sophomore, the lefty signal-caller finished second in the Heisman Trophy race after tossing for 3,966 yards, 43 touchdowns and six interceptions.
But a lengthy injury history, most notably a dislocated right hip he suffered in mid-November, led many to believe the one-time favorite to be the No. 1 overall pick might slide toward the middle of the first round.
In the weeks leading up to the Draft, the former Alabama star was fully cleared by his surgeon and received positive reviews from a hip specialist in Nashville.
Tagovailoa recognized he won't enter training camp atop the depth chart, but he fully expects to compete for the starting job with the incumbent Fitzpatrick.
"That has to be the mindset," Tagovailoa said. "Competition is usually always healthy. You not only get better yourself, but you get the entire quarterback room better that way."
The new franchise quarterback isn't concerned about changing his jersey from No. 13 – "Dan Marino is the G.O.A.T." he said – but rather following in the footsteps of the Dolphins legend.
"What I have to do is go out there and earn my respect," Tagovailoa said. "I'm trying to prove this is the right decision for the organization."
If the early consensus is any indication, Dolphins fans around the country are ecstatic with the pick. The Dolfans NYC Facebook page was littered with thumbs-up emojis and jubilant GIFs immediately after the announcement. In a poll asking if the team made the right move, the overwhelming majority voted 'Yes.'
"He's the best QB in the Draft," one member said. "Let's keep the young man healthy and see what he can do!"
Tags: 2020 NFL Draft, nfl draft, Tua Tagovailoa