#2022 #MetLifeTakeover Recap & Photos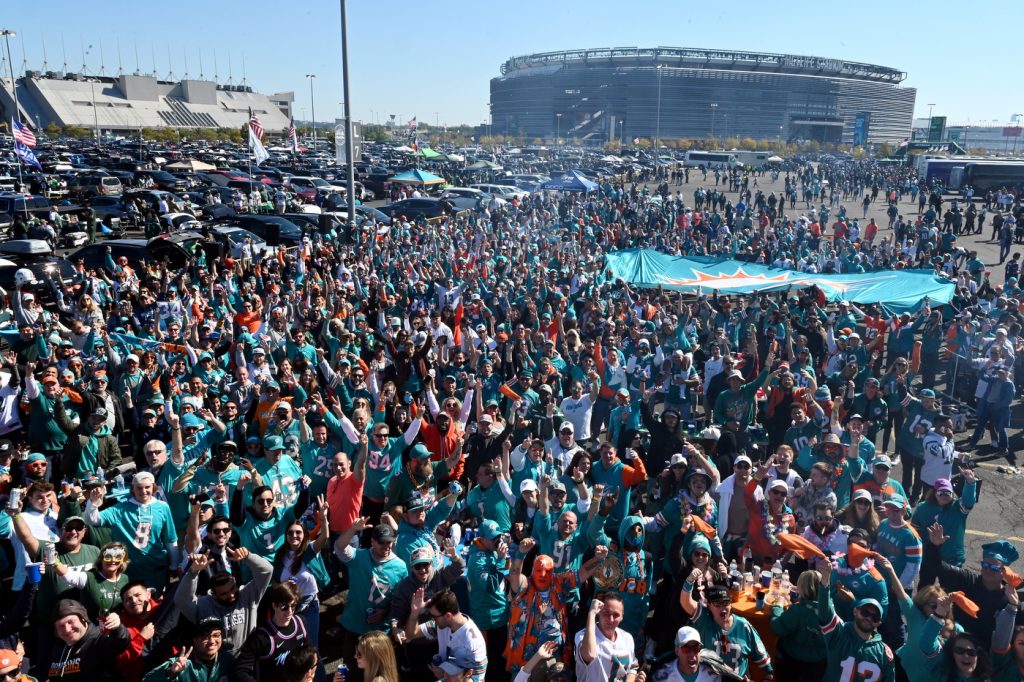 Despite the loss the Dolphins took on the field, the #MetLifeTakeover weekend was absolutely incredible. I cannot believe how much we have grown and it's been so great to hear from so many people about how much fun they had despite the game. It means so much to us that you guys keep coming back and we can't wait to do it again next year, hopefully even bigger. So let's get to some numbers.
We had over 1400 people sitting together across four sections. We had over 500 people pay for our tailgate with a lot more people just coming to hang out around us in lot L4. We had five busses and gave out 800 rally towels for free. Between two raffles we raised over $5000 for charity and our friends at Ticketboard raised another $1000 with their raffle. We were able to donate $2500 to the Miami Dolphins Foundation, $2000 to the Jason Taylor Foundation, $500 to the Concern Foundation for breast cancer awareness month and we will be matching Ticketboard's $1000 donation to the Dolphins Cancer Challenge at the end of the season (The DCC is in February 2023).
Next up we have some thanks to give out. First of all thanks to everyone who volunteered to help out,  donated raffle prizes and just showed up. Only two of us run this whole thing, but we couldn't do it without you all. We need to thank our bar Slattery's Midtown Pub, our catering company Urban Tailgate, The Dolphins, The Jason Taylor Foundation, DJ Syckturtle, Solo D & Miami Sports Music for providing music (and a live podcast). We need to thank Liquid Death, Sailor Jerry, Reyka Vodka & Fistful of Bourbon for providing beverages for our tailgate. Thanks to Oscar and RizeOptix for our recap video (hopefully coming soon – check out last year's here). Thanks to Antwan Staley for writing about the event for the NY Daily News (if anyone has a copy of Saturday's paper let us know) and big thanks for Nat Moore & Joe Rose for making it out to the tailgate to sign some autographs and take some pictures.
Between the party at Slattery's Saturday night and the tailgate on Sunday we had so much fun this weekend. If only the Dolphins could done their part and won. But this isn't just about football, it's about friends and doing some good for the community, and on those levels we came out with a huge win. Thanks again for coming out and check out some of the photos I took on Sunday below.
Tags: dolfans nyc, DolfansNYC, dolphins, joe rose, metlife takeover, metlifetakeover, miami, miami dolphins, Nat Moore, solo d, tailgate