Kenyan Drake Making Global Impact, One Smile at a Time
Dolphins fans, far and wide, were all smiles when Kenyan Drake sprinted into the end zone as time expired to stun the Patriots last December. Over the summer, the fourth-year running back capitalized on the lasting popularity of the play since hailed as the "Miami Miracle" to put smiles on the faces of hundreds of children who may have never seen him play a single down.
Drake has served as an ambassador for Smile Train, a nonprofit organization that provides free cleft and palate repair surgery in more than 85 developing countries, for the last two years. During that time, he's visited hospitals and local homes in Mexico and Brazil, hosted a cocktail dinner in downtown Miami, and led a three-mile walk in Long Island, N.Y. to raise awareness for the charity.
During his recent trip to Rio de Janeiro treatment centers, the 25-year-old, in conjunction with Smile Train, came up with a way to utilize his elevated NFL platform to get more people involved in the cause. He posted an offer to his 150,000-plus Twitter followers: anyone who'd donate at least $15 to his fundraiser over a five-day span would receive an autographed photo of his biggest football moment.
With Week 2 bringing the Patriots back to Miami for the first time since Drake's miraculous score, Dolfans NYC is using the opportunity to assist his philanthropic initiative. On Sep. 15, Slattery's Midtown Pub will hold a pledge drive and raffle off memorabilia, collect unused dental items and make "get well soon" cards that will be distributed to children who've recently undergone cleft operations. All proceeds will go directly to Smile Train.
Drake, who also wore custom shoes representing the charity during the NFL's "My Cause My Cleats" campaign last season, was inspired to join Smile Train after learning about its mission and recognizing how he could make a difference.
"A smile is the first thing you notice, and I just like to use my opportunity to go out there and really help people see their potential," he said. "I feel like I'm a champion for the vulnerable and for people who don't have a lot of the things that people in other countries may have just because of the circumstances they were born in."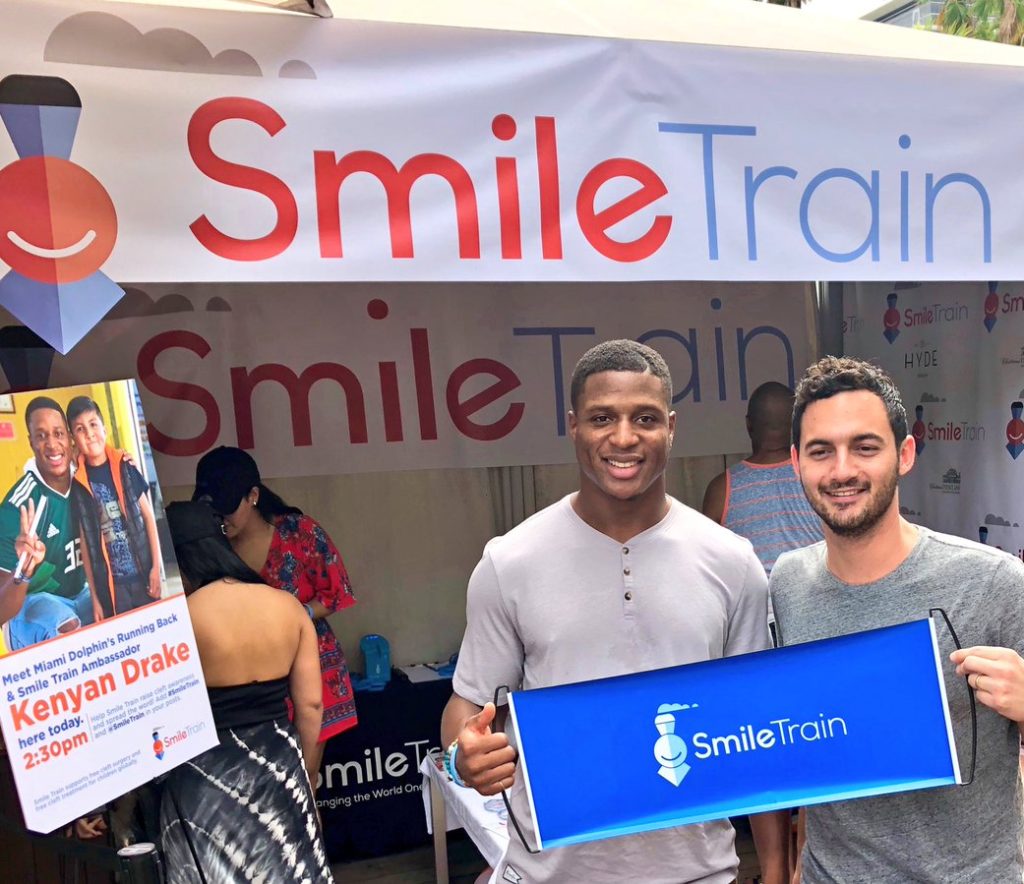 While touring international medical centers, he observed surgeries first-hand and helped spread positivity to children and their parents.
"When you go out there and give time and effort," he said, "it gives them the ability to have a great (experience)."
In the days following his social-media campaign, the contributions, from the minimum $15 to over $250, kept pouring in, so Drake stayed busy signing in his free time, inscribing his name across stacks and stacks of 8×10 prints. There were too many to count, he said, but consider that just last week, he prepared the final 500 photos for delivery.
Drake set a $10,000 goal, enough to cover up to 40 surgeries; he raised nearly $14,000, and proceeded to personally match the total.
"I wanted to do that with my own funds to just show how invested I am in it," he said. "I feel like my (position) definitely gives me the ability to impact the world."
Among the prizes in Dolfans NYC's upcoming raffle is a Dolphins mini helmet signed by No. 32. In addition, for every donated item and made card, members will receive a separate raffle ticket for a chance to win a football signed by Jason Taylor and Zach Thomas at the end of the season.
"It's pretty cool to just be involved in that," Drake said. "I feel that it's definitely something worthwhile."
Tags: charity, dolfans nyc, Kenyan Drake, miami dolphins, slattery's midtown pub, Smile Train